WORK-A-THON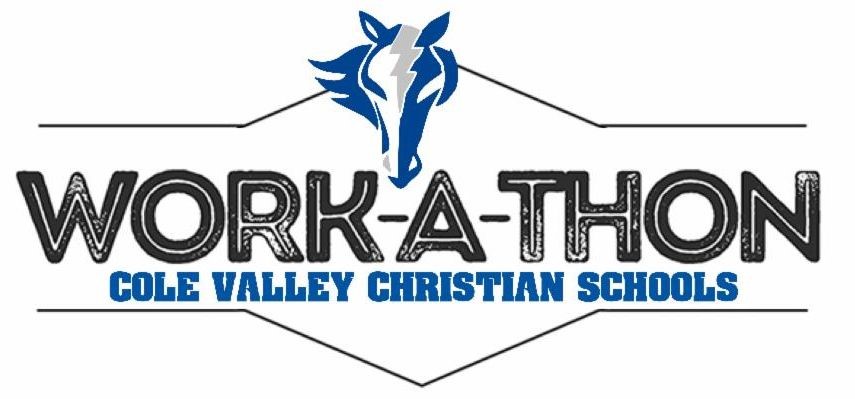 Reaching out with over 2,000 hours of meaningful work that makes a difference in our community while raising money for our school.
What Is Work-A-Thon?
Work-a-Thon is an annual event in November in which CVCS students and faculty work in our community with a mission to bless others while also raising funds for our school. During the week of November 18-22, our students and staff will work in local non-profit organizations, churches, assist local neighbors, and work on projects within our school. Elementary students will contribute 2 hours of work and Secondary students will contribute 3 hours of work.
Work-a-Thon supports our mission by giving our students the opportunity to meet needs of those outside the walls of our school. It builds their awareness of how to be a blessing in our local community as they are exposed to different opportunities and ways of helping. And as a result, Work-a-Thon gives Cole Valley Christian Schools the opportunity to create goodwill with these organizations, our town and our neighbors.
2019 Work-A-Thon Information
Work Dates:
Secondary Students/Staff: Friday, November 22, 2019
Elementary Students/Staff: Monday, November 18 - Friday, November 22, 2019

Classes will pick a project that could be done any one day that week - teachers will announce specifics for their students
Goal: $100,000
Students will be asking for 10 people to support them at $10 each for a personal goal of $100. Funds raised will be used to:
Purchase new furniture and technology to finish out the newly renovated Learning Commons at the Secondary Campus
Purchase new CleverTouch technology for our Elementary Classrooms
Renovate and build new classrooms in the Brewer Building to expand student capacity for 2020/2021 school year
How to Donate:
Cash / Check sent with students or mailed to our Business Office by December 2nd

Make checks payable to "CVCS"
Memo line: "WAT 2019 - student's name" - or if making a general donation "WAT 2019"
Mail to: CVCS, 200 E. Carlton Ave, Meridian, ID 83642

Credit Card online - text "cvcs" to 555888 to get a link to our secure donation website - or click here
How Can You Help?
Parents, grandparents, neighbors and friends have the opportunity to help our school for Work-A-Thon in several ways:
Prayer Support - Praying for every aspect of the day and preparation for it
Encouragement Support - Speak encouragement into your student(s) about the importance of blessing others through hard work
Financial Support - Sponsoring students with donations as they work
Volunteer Support - Help us prepare the work plan before the event or work alongside students the day of the event
Volunteer Opportunities:
We will need parent volunteers to assist with project management, taking pictures, and assisting with transportation needs. If you would like to be a part of this amazing week, please email Denise Jordan at denise.jordan@cvcsonline.org .