Charger Arts Booster Club
Charger Arts Booster Club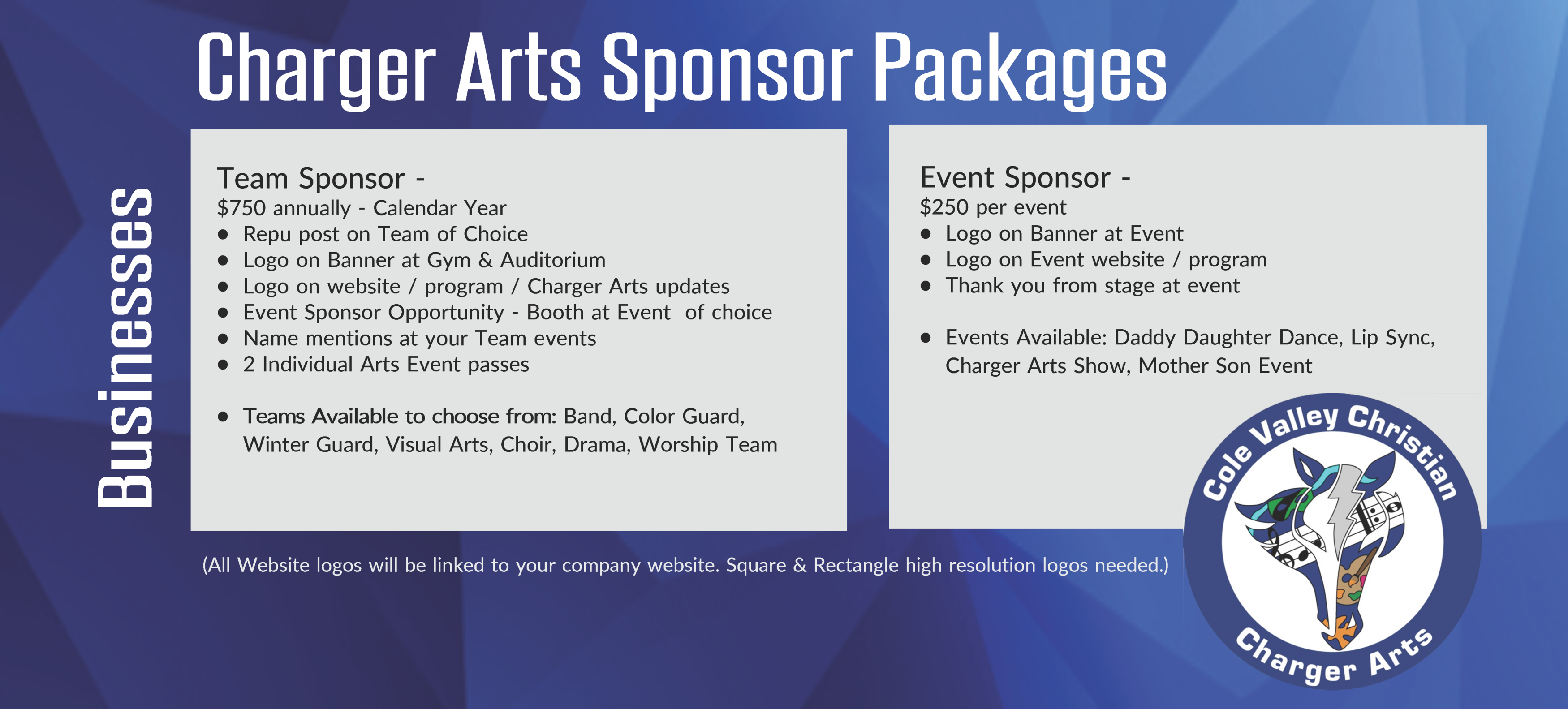 An introduction to Cole Valley Christian Schools Charger Arts Association:
What is Charger Arts?
Charger Arts Association is a group of parents, teachers and staff at Cole Valley Christian Schools dedicated to the advancement of the performing and visual arts programs at the elementary and secondary campuses. We believe that the arts are a very important aspect of the school's vision of "…developing the whole person to impact the world for Jesus Christ."
How long has Charger Arts been in existence?
Charger Arts was formed in the Spring of 2008.
What are some of Charger Arts' accomplishments?
Charger Arts has been able to provide the following:

Elementary Campus---
Charger Arts Festival/Visual Art Show
9 keyboards and power cords, 5 tubanos, and handbells for the music program
Director's music stand for the music and band programs
Drum set replacement parts and repair
Bass drum, mallets, stand, and straps for the band program
Mouthpiece puller for the band program
Bass guitar and/or baritone (pending) for the band program
Financial support for the band program (pending)
Venture Coy and Ward Hooper art workshops and art supplies
Secondary Campus---
Charger Arts Festival/ Visual Art Show
Two choral risers for the Music Department
Replacement parts, repair and cymbals for the drum set
Auditorium curtain (in partnership with the Drama Department)
Idaho Shakespeare performance and workshop
Sound system improvements
Grand piano for the auditorium
Where does Charger Arts get its funding?
During the 2008/2009 school year, the primary source of funds for Charger Arts was a generous grant from the Perkins Foundation, combined with other monetary donations for the grand piano and general fund from a number of other donors. Charger Arts has also conducted other fundraising activities.
How can I support Charger Arts?
There are many ways! Here are some of our ideas, but we'd love to hear yours as well.
Support the Charger Arts by joining as a member for the 2022/2023 school year. While gate funds go towards funding the expenses of holding the events, when you purchase a pass the funds are all invested back into growing the excellence of the arts at CVCS.
Become a sponsor and promote your business while supporting the Charger Arts. We would love for you to become a 2020/2021 sponsor!
Become a Charger Arts volunteer. Let us know the kinds of things you might be interested in doing, be it sharing your arts expertise with our students, helping with a fundraiser, helping with an event, helping behind the scenes, helping a lot, or helping a little.
Let us know about any contacts you have in the arts world that might be interested in sharing their arts expertise with our students, on a paid or unpaid basis.
Donate things you have around the house or have access to that our school might be able to use - musical instruments, art supplies, period attire and accessories, etc.
Let us know if you have contacts for discounts on items like musical instruments, art supplies, video equipment, sound and digital recording equipment, performance attire, choral/band shells, etc.
Help us secure free or discounted tickets to area arts events, artwork, or anything else that we could raffle off as a fundraiser.
Share your ideas with us on advancing the arts programs at our school.
Share your ideas with us on fundraising.
Make a monetary donation to the Charger Arts general fund, or to a designated area or item.
And last but certainly not least, pray for Charger Arts, that we might serve an effective role in "…developing the whole person to impact the world for Jesus Christ."
How can I get in touch with Charger Arts?
Please email ChargerArts@cvcsonline.org. You may also get in touch with any of our arts teachers: Wes Simmonds and Rich Taylor.