Middle School & High School Campus
Middle/High School Campus
Our Middle/High School Campus with 6th through 12th grades is in downtown Meridian in the renovated original Meridian High School building (built in 1912).
A relational approach to education is continued from the Elementary to the Middle/High School campus, where each student is known and uniquely challenged in their giftedness.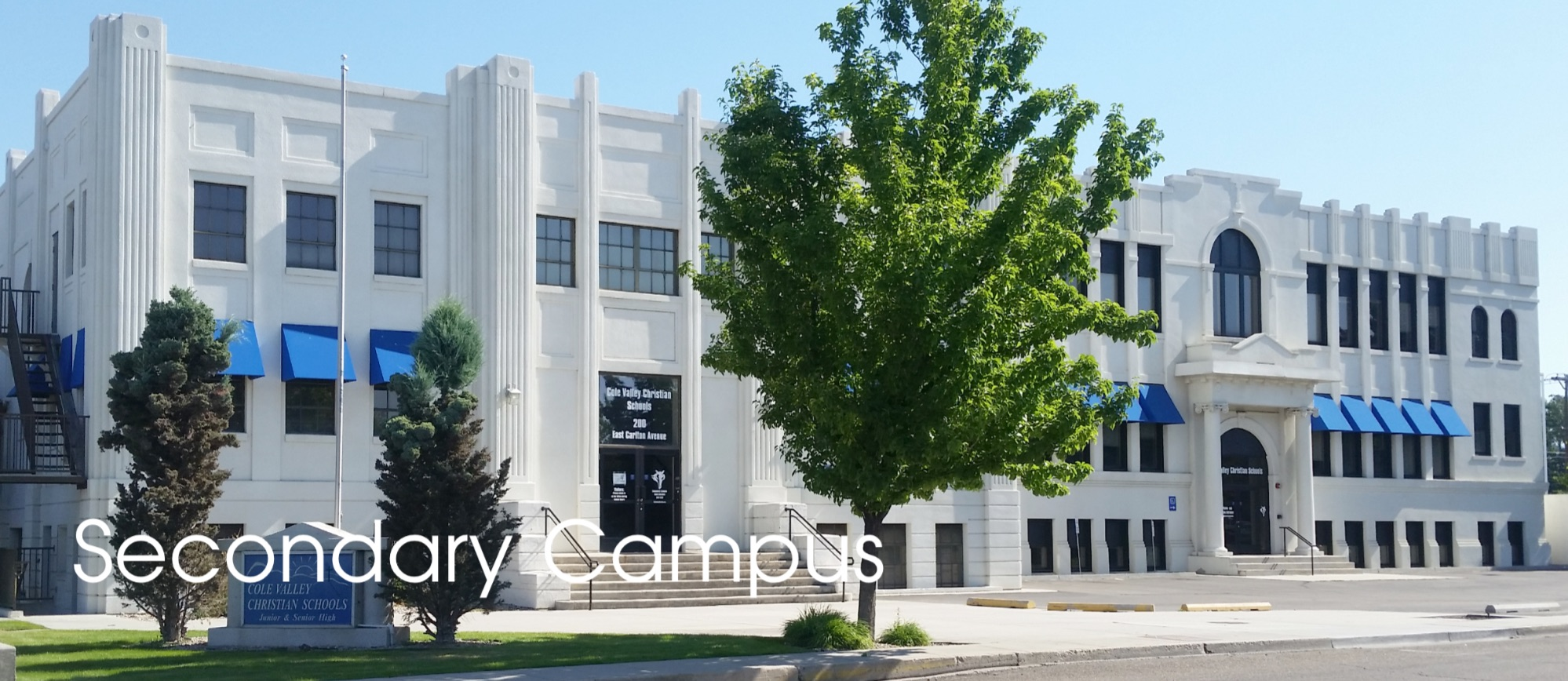 Multiple levels of Math, Language, and Science help students find the right challenge for their optimal growth. Students can graduate with more than 40 college credits through Concurrent Credit and Advanced Placement classes.
The Arts are alive and very active at CVCS. Band students enjoy concert band, marching band, and pep band experiences. Drama students perform two plays each school year. Our color guard participates in half-time shows and school activities as well as competitions with other color guards. Both drama and choir students have multiple performance opportunities throughout the school year. Our fine arts incorporate a variety of mediums and levels of difficulty, including pottery, and students are encouraged to submit their pieces into our Charger Arts Festival.
Student-led chapels each week augment Bible classes in helping students begin to make their faith their own as they transition to adulthood. Students are challenged to think critically and compare all claims to the truth of God's Word. Our graduates are "prepared with the foundation of God's unchanging truth so that they can serve Christ in a rapidly changing world."
Students explore and put their learning into practice in Athletics, the Arts, and by participating in various clubs and learning opportunities, such as Business Professionals of America, robotics, student council, worship team, and weekly community service opportunities. Our students are mentored by their coaches and advisory leaders to help prepare them spiritually, socially, physically & relationally in alignment with our school's mission statement.
We have graduates who go on to everything from working in the mission field to enrolling to enrolling in Ivy League schools. We support our students and their families as they transition to wherever God calls them.
AT THE MIDDLE/HIGH SCHOOL CAMPUS
ADDITIONAL PROGRAMS: