Secondary Campus Lunch
CVCS brings in lunch options each day from different vendors. We also carry items such as fruit & veggie cups, chips, salads, and other basic items. Lunches at the Secondary Campus can be paid by putting money into a FACTS Prepay account through an online deposit or by the student bringing cash to the line.
11th & 12th grade students may go off campus for lunch. All other students typically sit in the Commons Area to eat - although they may go outside to the field under supervision when weather permits. High School lunch and Middle School lunch are at different times.
Charger Meals at MS/HS Campus:
There are two ways your student may be unable to purchase the catered lunch option of the day, but instead will offered a "Charger Meal".
#1-Zero or negative balance on their FACTS Pre-pay lunch account.
Offering them a Charger Meal ensures that they are fed nutritionally, while only accruing a small negative balance.
We will always offer, but students do not always accept. Our heart is to not have hungry bellies. The choice is theirs.
#2-Lost or forgotten Student ID card.
Your student's ID is what locates them in our system and allows them to make purchases that are billed to your FACTS account.
*LOST ID cards can be requested to be reprinted at the Main Office and a fee will be charged to your FACTS account.
Charger Meals consist of: Bagel & cream cheese, applesauce, 2 cheese sticks, yogurt & tiny granola, and protein bar.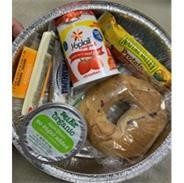 Elementary Campus Lunch
We do not have a cafeteria or a centralized eating location on our Elementary Campus. Students typically eat lunch in their classroom (or outside if the weather is nice). They can bring lunch from home, or meals can be purchased weekly through our school lunch program. They bring food in from local restaurants (such as Chick-fil-A, Jimmy Johns, Panda Express, etc).
Lunch Ordering - Elementary:
Cole Valley Christian Schools is partnered with BOONLI to provide a secure, fast, and easy-to-use online ordering system that allows you to view our menu, order, prepay and manage meals and more from their smartphone, tablet, or computer.­­­­­­­­­­­­­­­­­­­­­­­­­­­­
All lunches must be ordered in advance - You can purchase lunches weekly; however we recommend ordering for the whole month at one time. Lunch must be ordered and paid for by 10am Friday for the following week.
There are NO LATE ORDERS. Lunch order lockout is Friday at 10am each week.
Orders will not be processed without payment (online). You can view your orders by logging into your families lunch account.
All users, new and existing, will be charged a $25.00 fee on your first order so that we can continue offering our lunch program online. This is per family, not per student. If you have any questions, please contact Marta Deely, at marta.deely@cvcsonline.org.
LET'S GET STARTED
Go to https://cvcs.boonli.com - (please bookmark this page)
Click Create an Account: Password is: cvcs1
Enter your information to create your account and click Submit
Now you will add profiles for those you will be ordering for, once added click I'm done
Sign in to begin ordering
Be sure to proceed to checkout and process your payment. Orders that are left in shopping cart will NOT be processed and your student(s) will not be included in the lunch service.
Need help, have questions? Questions should be directed to CVCS Elementary Lunch Coordinator, Marta Deely, at marta.deely@cvcsonline.org.
For TECHNICAL SUPPORT: Email support@boonli.com
Lunch Volunteers
The success of our Cole Valley Lunch Program is solely dependent on volunteers. During the lunch hours, we need volunteers to distribute pre-ordered lunches to students, monitor, and tidy lunchroom on certain days of the week. Volunteering is a great way to see your student and their friends during the school day, meet other parents and provide support for Cole Valley. Volunteers are trained appropriately to ensure they have the necessary tools to make their time rewarding.
CVCS volunteers are needed Monday through Friday from 11:30am to 1:30pm. To enquire about volunteering please contact Marta Deely, at marta.deely@cvcsonline.org